Last Wood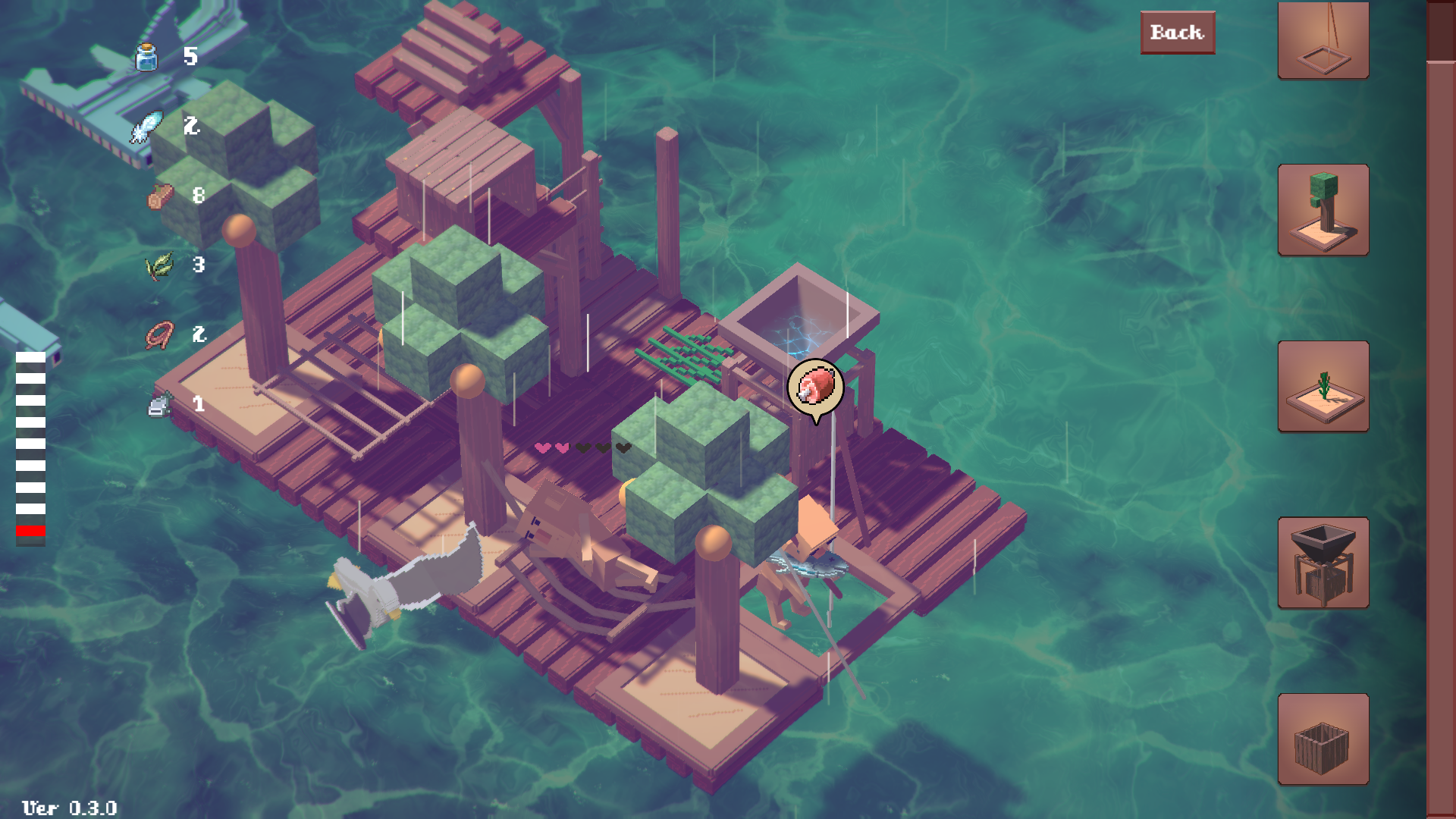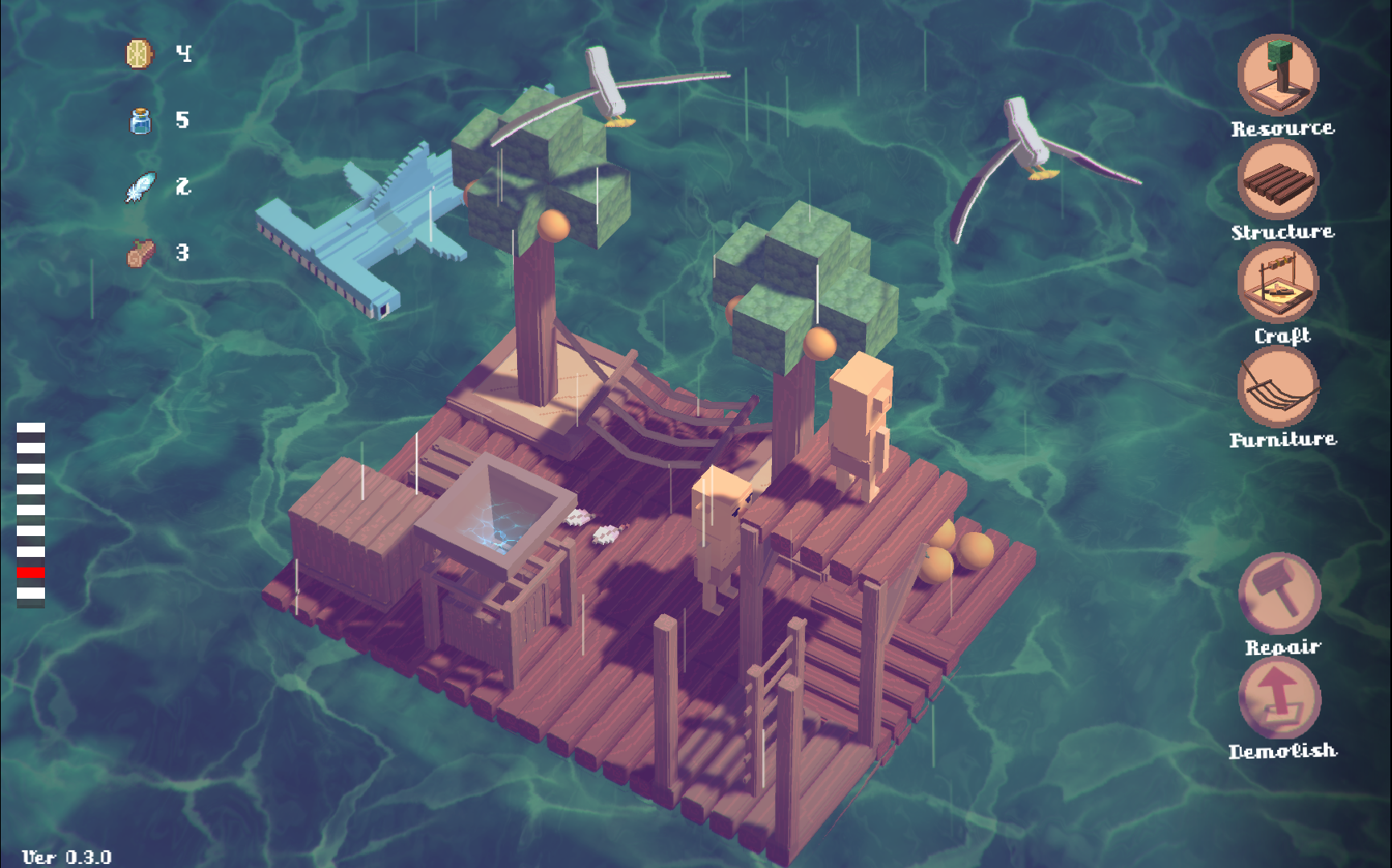 Long time no see, fellows! Here're the new features of Version 3:
Structures: Build stairs and pillars to expand your raft vertically. Build walls to organize the survivors' routine.
Picky survivors: Beside hunger, your survivors will get thirsty and tired over time.
Rain collector: It collet water while raining. You can build water tank around it to increase the storage volume.
Hammock: Hammock is where your survivors sleep, and it must be built between 2 trees.
Rope: Beside wood, most of the building require ropes. Plant flax to make ropes.
Workbench: Crafting useful materials like rope and other inventory.
Meat rack: Make fresh fish into dried fish, which can be preserved longer. It must be built between 2 trees.
Harvest seagull & shark: If your defeat seagull or shark, you can harvest for resources.
More survivor appearance.
You can press space to pause at any time, which gives you more time to think and arrange.
You can rotate blue print by pressing R.
Save/Load.
Improved UI.
Files
LastWood_0.3.7_win32.zip
37 MB
Sep 30, 2017
LastWood_0.3.7_win64.zip
39 MB
Sep 30, 2017
LastWood_0.3.7_Mac.zip
42 MB
Sep 30, 2017
LastWood_0.3.6_win64.zip
39 MB
Sep 30, 2017
LastWood_0.3.6_win32.zip
37 MB
Sep 30, 2017
LastWood_0.3.5_Mac.zip
42 MB
Sep 27, 2017
Comments
Log in with itch.io to leave a comment.
i can not change floors ive tried everything please help
What is the version you downloaded?
And have you tried Tab key after you build a stair?
yes and i cant do anything but build nothing speacial like moving or haveing a baby
i downloaded the latest version
0.4.2
got it took 3 hours had to restart 13 games and re-download 5 times lol
Did you feel that things in screen moved up and down when you pressed Tab key?
yay also how do you get bones
got it how do you get more people
I've just bought the game and it's great, but it's really difficult. I don't have time to build 3-4 trees or the basic resources and people getting hungry and die. You don't have time to do anything, your people die before you produce food. And i tried like 15 new games, and I'm doing all the moves really quickly.

I guess you did not use the pause button.
Press SPACE to pause game, in the meantime you can place buildings and view the status.
¡Hola!
He encontrado algunos errores en el juego que llegan a ser algo molestos cuando logras avanzar, empezando por los tiburones. Resulta difícil lograr sobrevivir o avanzar desde el momento en que te atacan tiburones en exceso, gastas más tiempo sacándolos para que no rompan todo y reparando que en el juego como tal, lo cual creo que le quita su esencia.
También me sucedió algo curioso durante una partida. Entre los sobrevivientes habían 1 hombre y 3 mujeres, y de un momento a otro ese hombre se volvió mujer, no murió ni había sido otro bebé...
En mi opinión, creo que en cuanto a los tiburones deberían aparecer menos al aumentar el espacio o limitar su número de ataques simultáneos, o también podría haber una forma de matarlos sin necesidad de que ataquen la barca, por ejemplo con trampas o redes, y se debería poder almacenar la madera en mayores cantidades dentro de cajas para que no estorben mucho
Disculpen por no poderlo poner en inglés, pero no soy tan buena en el idioma :D
Thanks for your feedbacks!
And sorry for not able to use Spanish since I'm not good at it.
Google Translate is enough to let me get your suggestions :D.
We did realized that it is too fast the number of sharks increased in ver.0.3.7, which will be tuned in the next updates.
And also, there will be more controllable or active ways to kill any animals.
Since there is still a lack of risky events in the game, so the sharks and the seagulls seem too tedious now.
defeating the segulls is to hard...I keep dying just because of lack of sleep because I cannot defeat one quickly enough repeatedly. I also found a glitch in the new fish soup recipe, they get stuck bringing water to the fire and not making soup and starving...just thought you should know!
Have your suvivors put enough fish in it before?
doesn't matter they just get stuck in that motion where they continually try to put water into the fire no matter how many fish are in or not
Happened to me too, so many times. The only way I could avoid this glitch was by assigning them other tasks like demolish, fishing, cutting and etc. However, right after that, they would go back to carrying water back and forth without doing much work. They wouldn't build or repair structures.
It's super difficult to survive more than ten days, I keep on getting three shark attacks at once at my survivors just stops everything eat and let the shark break the raft, It's super frustrating when you want them to go fight off a shark they just go to other side of the raft to eat.
This game went from chill to incredibly difficult. I'd love to see the devs post a video of them getting up to a stable gamestate from the start so I can see how in the heck one's expected to get the hammock in time to avoid dying of sleep while also not starving and/or dying of thirst.
That and double sharks can attack the same square at the same time, which I can't see any reasonable way to stop.
We tuned the difficulty in the latest patch just a moment. Sorry for your bad experience :(

And it is implicit that larger ground will atrract more sharks.
Thank you! After the most recent patch I no longer have any trouble getting up to a stable living state!

One thing that's a little bit concerning is that now Seagulls are littering my landscape. Maybe a "dump it into the ocean" option might be nice for excess feathers as I don't exactly need 30 hammocks.
Yeah, we did consider to provide survivors a option to dump any pile into the ocean (sometimes, if they both carries a pile, meanwhile, there is no empty land to put piles on, they just get stuck). But for some reasons, it will be added the next update. :D